10 Easy Exterior Updates to Boost Curb Appeal on a Budget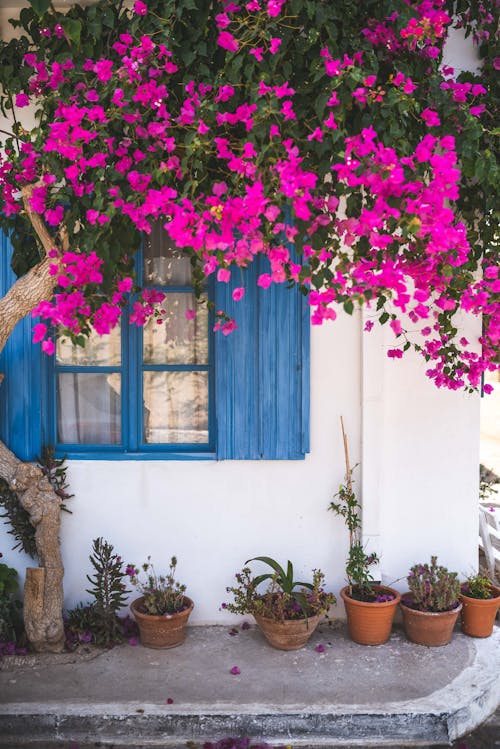 1- PAINT YOUR FRONT DOOR.
One of the easiest ways to transform your home's exterior is to paint your door. Choose a subtle shade that blends with your home's existing materials, or add unexpected color to your front door with a splashy hue. This budget-friendly project can be done in just a few hours for a quick boost to curb appeal.
2-ACCENT WITH COLOR.
When repainting, take the opportunity to choose fresh colors or add an accent color to your exterior color scheme. Paint test patches before committing to a color scheme. While some colors look great on a sample card, they may be too intense on a house.
3- CARB APPEAL.
Curb appeal doesn't end when the sun goes down. Highlight pathways and trees with landscape lighting. It improves safety and can yield dramatic effects for your home's nighttime appeal. Plus, new solar landscape lighting can help you save energy and go green outdoors.
4- ADD CARB APPEAL WITH A RAG.
Create a relaxing outdoor room by adding a rug underfoot. Not only does it bring softness to a front porch, deck, or patio, but a rug also encourages guests to sit and linger. Place a table for drinks within arm's reach and your guests might never want to leave!
4- ADD CONTAINER PLANTS.
Turn your home's entry into an inviting focal point by adding a few well-chosen and nicely arranged plants on the front porch. To dress up characterless windows, install house shutters or paint the trim into creating playful contrast. Window boxes filled with lush foliage bring life to your home's exterior. the plant and container sizes, and arrange them on multiple levels.
5- BOOST BASIC CONCRETE.
Refresh a plain concrete walkway to boost your exterior's character. Install brick edging or apply a colorful concrete stain to the surface for a playful touch. This budget-friendly curb appeal idea is a quick way to transform your front entry, driveway, or garden path.
6- GET A HEALTH LAWN.
One of the least expensive improvements you can make to improve curb appeal requires two simple steps: First, apply a weed and feed treatment to your lawn to ensure the grass has the soil nutrients it needs and doesn't have to compete with weeds. Second, regularly cut the grass at or near the mower's tallest setting.
Tip: If your lawn is too unhealthy or choked with weeds, consider installing new sod. Remove the old lawn, lay new sod, and keep it well-watered for a few weeks.
7-UPGRADE THE GARAGE DOOR.
An attractive garage door is an essential part of curb appeal. Sectional doors can feature windows in an upper panel, and some higher-end versions mimic the look of traditional carriage-house doors. If a new garage door is out of the question, add character with a pergola, new lighting, or by painting it to coordinate with your exterior color scheme.
8-POWER WASH EXTERIOR SURFACES.
Take a weekend to freshen up your home's exterior. Aluminum, wood, and vinyl siding are safe surfaces to power wash, as are wood decks and concrete sidewalks. If you don't own a power washer, you can rent one from your local home improvement center.
9- BEAUTIFY THE DRIVEWAY.
Line your driveway with lush greenery for a curb-appeal boosting effect. The colors and textures of plants soften a driveway's expanse and make it look less utilitarian. Groundcovers and low-growing plants are best in beds along one or both sides of the driveway.
10- MAKEOVER YOUR MAILBOX.
Add curb appeal to your mailbox with a splash of colorful paint. To keep with postal regulations, makeover the inside of your mailbox only. After painting the lid a bold color, stencil on a favorite phrase to brighten your day as you send and receive letters.